August 27, 2010
April 1, 2009
Hey guys and girls! Check out the brand new commercial that will be airing starting today in the Tampa, Florida area. This full HD video was shot in Tampa and this specific video features Extreme John in a straight jacket in the back of our massive 30 passenger F650 limo – it's pretty wild!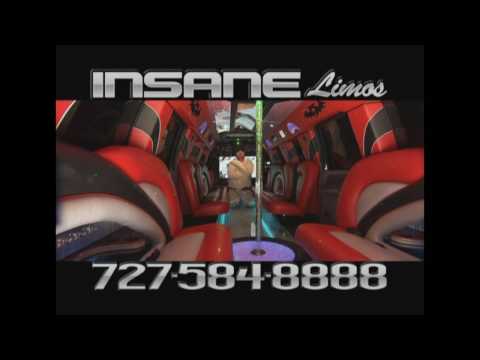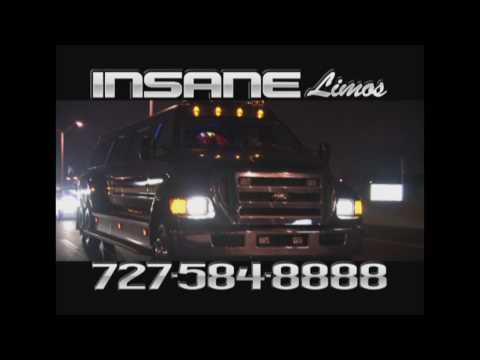 December 11, 2008
Our next and newest limo has arrived. After the Pink Hummer H2, we ordered a brand new Pearl White Escalade limousine which has just arrived and is also ready for service in the Tampa/Clearwater vicinity. The Escalade is a very classy limousine from the outside but the interior is almost as wild as the Pink H2! We'll save pictures of the Escalade limo for another time, just give you a peek of the exterior for now. If you're planning a wedding or prom, the Insane Limos Escalade limo is a perfect choice.

This exotic limousine features custom 22″ Asanti Rims and Custom Grille Inserts.
December 8, 2008
Here are a few and better looking pictures of the interior of our insane Pink H2 limo. From the outside, this "Barbie" limo is crazy but it simply does not do it justice compared to the interior. From laser lights and strobes to the all pink interior and full digital sound system with subwoofers, this limousine is a head turner. If you are looking into reserving our pink h2 limousine, please make sure you do it far enough in advance since this limo becomes booked very quickly.
Take a look!
November 26, 2008
You may or may not have seen the Pink H2 Hummer limo driving around Pinellas County lately but the first limo of the Insane Limos fleet has arrived in Tampa and is ready to roll! We have had a ton of calls and customers who have already used our limo and written testimonials – each and everyone of them loved it, especially the insane pink interior. Check out some of the pictures we snapped on the first night out on the town.
October 29, 2008
Welcome to our brand new site, That Pink Limo! Soon, you will see exactly what we created this website for our 2009 Pink Hummer H2 Limo. This limo should be completed shortly and available for us in the Tampa, Clearwater, Pinellas Park, Tarpon Springs and surrounding areas including Orlando! The reason behind the name is that everytime you see our eye catching Barbie pink H2 limo, you'll be saying "that pink limo!" It's something that will catch the eyes of many in the Southwest Florida vicinity, without a doubt.
If you'd like to reserve our Pink H2 Limo for your upcoming event, prom, wedding or anything you can dream up, please visit our reserve our pink h2 limo page or give us a call @ 1-888-91-LIMOS and we will get back to you as soon as possible.